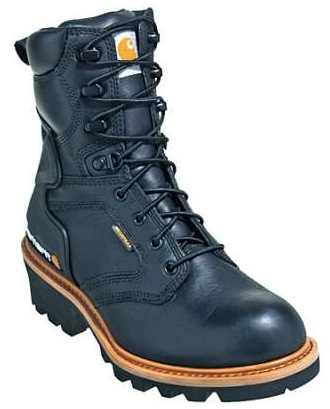 If you believe in working smarter, you need to be introduced to Carhartt boots. The iconic brand is using the latest and smartest technology to give you the performance and protection you need.
The Carhartt Comfort Footbed by Ortholite is a performance insole made from a lightweight open-cell compound, so it provides long-lasting comfort, superior breathability, and anti-microbial/anti-bacterial properties. It gives your feet comfort from the inside out, wicking away moisture, providing cushioning, preventing odor and fungus, and providing a nice air flow to keep your feet cool.
Carhartt LiteFire is a remarkable liner that provides 400 grams of insulation without the added bulk or weight. It is a heat-reflective technology that is breathable, waterproof, and warm, so your feet stay warm and dry. No sweat. Unlike thick layers of insulation which slowly reduce the heat, LiteFire reflects your body's heat so it uses it instead of uses it up.
The Carhartt Heel Guard is built to provide more heel stability, heel protection, and high abrasion durability, so that you can work with confidence.
There are 10 different styles of Carhartt boots that incorporate all these great features. The 6" or 8" Carhartt Direct Welt boots are a great place to start. The Carhartt Wellingtons offer 11" of tanned leather protection and comfort, and are even available in a women's style. The 8" Stitch Out Carhartt boots offer a rugged look and durability. The Carhartt Loggers have a Goodyear welt construction and Vibram rubber outsole, and are available in Low Heel or regular. The Carhartt Athletic Workers Bal and Carhartt Athletic Workers Blucher offer an athletic fit and increased dexterity, especially useful when climbing is necessary, due to their EVA midsole, Vibram rubber outsole, and molded TPU heel counter with achilles flex joint. The Carhartt Light Weight Work Hikers offer a boot's performance in a shoe's body. The Carhartt 6" and 8" Wheat Boots offer Wheat nubuck leather with Goodyear welt construction for a stylish and practical look. The Carhartt Romeo and Twin Gore boots are a 4" dark bown tanned leather with bon welt construction for a stylish slip-on. The Carhartt Extremes collection offers all the best in high-performance protection.
Whichever Carhartt boot is best for you, Workingperson.com will have it for you. You can't beat Carhartt. And you can't beat Workingperson.com's prices and customer service. Let us get you in the right pair of Carhartt boots today.