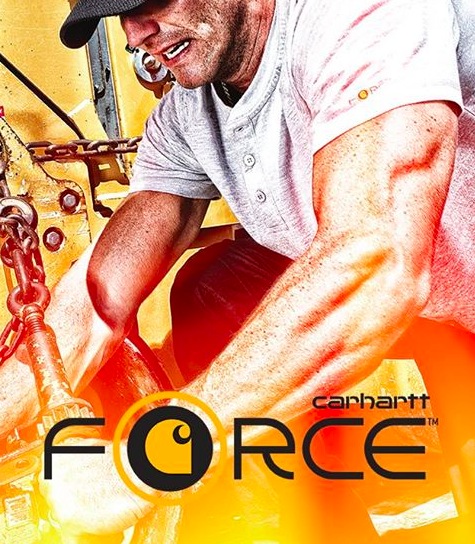 Carhartt proudly makes the best work wear around and they have done it again. To add to their work line pillars Quick Duck, Weathered Duck, and FR Apparel, Carhartt has created a new line called Force. Carhartt Force is apparel built for ten hour work days, not two hour workouts. In other words, the harder you work, the harder Carhartt Force works for you. Carhartt Force is joining the Carhartt family this summer. The line has men's and women's clothing. Carhartt Force also makes flame-resistant and high-visibility apparel.
So, what makes this line of work clothing so special? Well, that's simple. It is made especially for the worker that works long days and doesn't want to have to change their t-shirt after they have sweat through it. Carhartt Force is made with moisture wicking material, which helps to keep you dry when you are working so hard that you are sweating buckets. Worried about odor from working so hard? No need to worry any longer because Carhartt Force also helps to block against those odors you don't want anyone to smell. The sweat wicking material that is used in Carhartt Force clothing also features Stain Breaker, which helps to keep the clothing looking newer longer because stains are broken up more easily. Carhartt Force can be washed as many times as needed and will be ready to go back to work right out of the washer.
Carhartt Force is also focused on safety with Fire-Resistant and Hi-Vis apparel. These safety features, such as flame-resistance and high-visibility make the already amazing features of Force even better. Knowing that you are protected and can wear your work wear without having to worry about sweating through it, having your lunch that you accidently spilled stick around forever, or having that odor that comes with working long ten hour days is a great feeling.
Carhartt was founded in 1889 by Hamilton Carhartt. The company began making work wear with the working person in mind. Although Hamilton Carhartt passed away in 1937, the Carhartt company as continued on through the years to be very successful. Carhartt Force is one more style of work wear that Working Person's Store is excited and proud to carry. Available styles include a short sleeve t-shirt (100410), short sleeve henley (100413), long sleeve t-shirt (100393), long sleeve FR polo (100238), FR henley (100237) and a FR mock shirt (100549). Look for this new work wear by visiting us here!