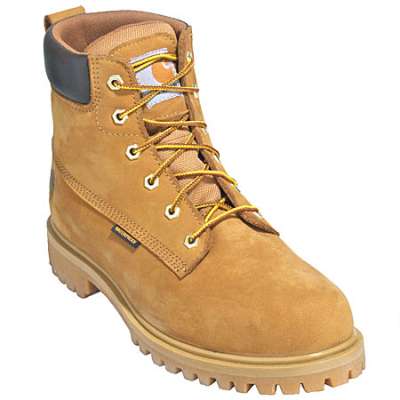 As technology advances, Carhartt has been on the leading edge of development. For its Fall 2012 line of work footwear, Carhartt took its inspiration from an unlikely place: Sports. Carhartt realized that athletes gain a certain advantage by having the latest state-of-the-art gear — especially when it comes to footwear. If a professional athlete needs the best footwear to succeed at his job, shouldn't you too? With that in mind, the Carhartt Litefire Insulation concept was born.
Carhartt views its consumers as the "Industrial Athlete," because they know you're looking for performance work footwear that provides protection and comfort without adding weight, restricting, or changing movement. The same principles apply. You need work footwear that puts you in the best position to succeed, without slowing you down. There's a reason Carhartt is at the top of the list when it comes to this kind of stuff. It's because Carhartt gets this kind of stuff.
When developing its Carhartt's Fall 2012 line of work footwear, Carhartt had the goal of creating products that were waterproof and insulated, while increasing performance, improving fit, and reducing weight. Carhartt put its products in the ring and let them duke it out. After this extensive research, the result: 10 styles in 5 categories – all with Litefire insulation by Sympatex.
Litefire insulation is the steroids of work footwear insulation. It's laid down in a gaseous state, then turned to its solid state, which results in a highly breathable insulation. Because Litefire becomes part of the membrane, it insulates with the equivalent of 400 grams of Thinsulate that is both waterproof and windproof, but without the weight or bulk – it's paper-thin. Pretty darn athletic.
Litefire also reflects body heat, as opposed to using thick layers of insulation, which slowly reduces the heat exhausted by the material's weight. Plus, additional insulation can be added, as needed, for higher level of insulation needs.
Simply put, you need footwear that will keep you warm and dry. Carhartt's Litefire insulation by Sympatex does exactly that. Can you imagine a professional athlete taping pillows to his shoes just because the game is in the rain? Not us either. Visit workingperson.com to check out our full line of Carhartt footwear, made with Litefire products.