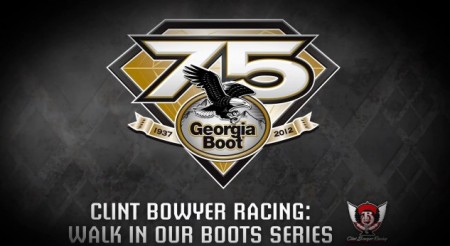 An accomplished race car driver has experience and the feel for the track, no doubt, but if he's going to have control, he'd better be comfortable muscling the wheel and have a feel for the accelerator with a work boot that can handle pressure.  Only with Georgia Boot on will veteran Steve Francis be in the dirt late model racing seat as a new 2013 member of the Clint Bowyer Racing team through the 2014 season.  He'll be stepping his work boots into the Lucas Oil Late Model Dirt Series with over 200 career wins, including the 2007 World of Outlaw Late Model Series Championship, assured, confident, and in touch with the gas pedal in his sponsor's Georgia Boot to see if he can best his 2012 fourth in points standings in this series.
Racing and Georgia Boot have a 75 year history, so it's expected the work boots industry leader wants to be attached to winners.  CBR has been a partner since 2012 and the partnership has attracted diehard motorsports enthusiasts to the comfort and durability of the Georgia Boot brand.  As a result, the sponsorship agreement of the CBR and Francis will extend another two years.  From rugged roots in North Carolina, where some of the best forests for American furniture are found, it's no surprise that since 1918 Georgia Boot has manufactured quality work and outdoor footwear that's perfectly suited  for the wild ride within a race vehicle.
For the rider inside the car and the guys (and maybe a few gals, too – ooh, la, la) outside in the pits and in the stands, there's a work boot style and price that will fit anyone hankering for a chance to be part of CBR and Georgia Boot's winning team. For your own pair head on over to WorkingPerson.com for the best selection of highly trusted and durable, Georgia Boot.