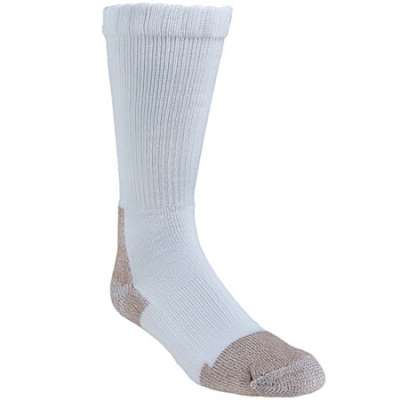 Proudly made in the USA, Fox River has been providing its services since 1900 as a leading U.S. manufacturer of quality work socks, gloves, and various other accessories. Since 1900 this brand is making socks in the USA and is continuously committed to remaining American-made. This company is located at the center of the country in Osage, Iowa. Because of this, they are able to easily and efficiently distribute their products across the country and around the globe.
Fox River has earned a name as an American-made manufacturer of quality products for over a century. This is really a great achievement on part of any brand. Fox River has really made a glorious history from the time it was originally founded under a name of "Fox River Knitting Company" in Menasha, Wisc. by the Dutcher family who owned it until 1975. In those early days, it was devoted to manufacturing quality socks and handwear for the working person and would provide them with these items at a very fair price. Now, Fox River has changed what the products it offers but its devotion to "offer a quality product at a fair price" has not changed. From 1906 to 1971, Fox River moved and stayed in the Appleton, Wisc. to the factory that served as home to the brand.
Fox River has seen many ups and downs on the path towards success. In 1966, Fox River had purchased a mill in a location of Downtown Osage, but unfortunately, fire burnt it down in 1969, then it secured a temporary location in the old Twin City Dairy Co-Op as a major employer and constructed a new mill in 1971. Though that new mill constructed in 1971 is still called as its home today, but in the same year, Fox River had moved its headquarters to Osage. With this shifting of headquarters, later on in the period of 80s and 90s it saw great growth and stood out among world's largest sock brands. After that, Fox River continued its journey towards excellence and acquired many other mills including Rockford Textiles of McMinnville, Tenn. ('85), Portage Mills of Portage, WI ('88), Zwicker Knitting, Zwicker International and Nelson Knitting ('92). Among all these mills, acquiring Nelson Knitting was a great achievement as it produced world's most famous socks, the Original Rockford Red Heel Monkey Sock.
Fox River has achieved remarkable success by being committed to innovative sock construction and continuous attention towards market trends. In 1985, Fox River made a remarkable success by introducing a signature Wick-Dry Socks, this was about its moisture management technology that helps to keep feet dry and reduces moisture build-up around feet, which prevents fungus infections and blisters on the feet. Extending its great efforts for excellence as an American-made brand, it launched the industry's first women's specific-fit performance sock line in 2000. Until then, women used to buy smaller versions of men's socks, but for the first time, this exceptional USA brand told the world that women's feet are different thus require different sock with smaller toe boxes and heel pockets to best fit. With this notable addition, Fox River remained committed to many women related causes and even on recent Pink Ribbon day, it remained committed to its cause by giving a portion of its profits from every pair of Fox River Women's socks to support Breast Cancer Research, Awareness and Prevention and tell the world that women have unique health issues.
President of Fox River Mr. John Lessard said, "The industry has trusted us to provide them with quality construction and style at an undeniable value for more than 110 years and our continued commitment to providing innovative fiber options, American-made quality and superior value makes us a brand both dealers and consumers can relate to".
So true, because no other brand has more experience in designing and constructing a better sock that performs better for a longer time than America's oldest sock brand, the one, and only Fox River. You can purchase the socks and other Working Person's items by visiting WorkingPerson.com and placing your order online. So now you are just a click away from quality!