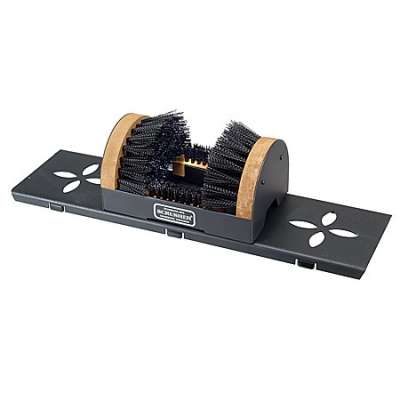 So, you bought an amazing pair of athletic shoes or work boots from Working Person's store.  How long can you expect them to last? What are some steps you can take to make sure your boots outlast their typical shelf life? Learn some of our most trusted tips to get the most boot for your buck.
Typically, work boots are designed for 2,080 hours of wear. If you wear them at a full time job every day, that means they'll last you about a year. After you've made a significant purchase like a nice pair of shoes though, you are likely hoping they'll last longer than 12 months.  
It's important to note that Your weight,and gait both impact your boots' durability. Your  working conditions also affect how long your boots will last, especially if you are encountering intense heat, water, or chemicals.
Waterproof and Condition
Waterproofing and conditioning your boots is a surefire, proactive strategy to enhance the longevity of your boots. You want your boots to protect your feet from moisture and muck, but you also want them to look good while you work! Investing in a quality conditioning kit will help prevent water from penetrating the leather parts of your boots and also keep dirt and grime on the surface for easy cleaning. A multi-benefit Carhartt Shoe Care kit provides you with protection for any working conditions.
Clean off the muck
Although dirt is often an inevitable part of hard work, it doesn't have to stay caked in your boots forever. . One mistake many boot-owners make is failing to regularly clean their boots.Cleaning your boots at the end of mucky works days will help preserve them in the long run a  Invest in a good rough surface scrubber, such as a Scrushers Boot Scraper that uses poly bristles to remove dust, dirt, and mud from each nook and cranny.
Remove moisture ASAP
After a long, wet day at work you probably just want to kick your wet boots off and forget them. Taking the extra time to properly dry them first though will  prevent damage from sitting water and help reduce odor. Products like the Dry Guy 02129 Force Dry DX Boot And Glove Dryer quickly remove moisture to prevent growth of fungus, odors and bacteria. The machine thoroughly dries your boots in two hours with its extension tubes so that you can sit back and relax and enjoy fresh, dry boots in the morning.
Choose the right outsole for the job
Choosing the right outsole for your line of work t makes a real difference in your boots' durability. For example, a park ranger may prefer the comfort of Opanka and not require a lot of heat protection, while a welder may need the heat protection of vulcanized rubber. Choose the right outsole for your job and enjoy the benefits of a longer lifetime for your footwear. Learn more on finding the outsole that's right for you.
How do you make sure your boots withstand the test of time?