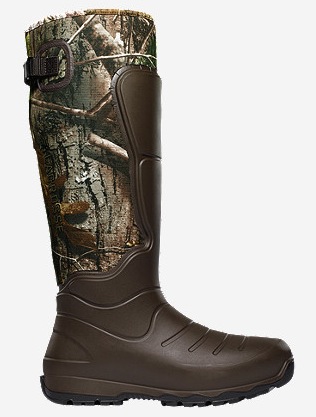 Summer is making its way to the Midwest, but when next fall's deer hunting season opens, the latest technology from LaCrosse Boots will be available to hunters who want the best hunting boots on the market in the company's new AeroHead boots.  They meet all the critical elements of a hunting boot – comfort, fit, durability, and weight. So, if your last season's boots aren't calling you back on the hunt (at least in your mind for the time-being) with the feel, comfort, and flexibility of a light-weight running shoe and ultimate durability for wet and cold, it's time to consider the ground-breaking new scentless boots that will exceed expectations and carry you well next season.
From the 55-year old company that pioneered hunting footwear with the iconic Grange, this revolutionary new LaCrosse boot is unsurpassed with new AeroForm technology. Where the hunting footwear company's older technology advanced comfort and performance with a unique rubber-over-neoprene construction, the AeroForm technology once again sets a new standard.  This technologically advanced liquid polyurethane-over-neoprene construction starts with a flexible, insulating neoprene sock for total foot comfort.  Utilizing LaCrosse's Armor Weld process, a liquid rubber seal is applied to the sock seam for flexibility while ambulating and for easy on and off.  The last liquid polyurethane step is formed around the sock, forming the highly durable and insulating shell around the foot and up the shin of the hunting boot that also protects against brush and briars.
Other beneficial features of the AeroHead boots include the rubber exterior, Ankle Fit technology ensuring a secure shoe-like fit, integrated shank under the arch for tree-stand climbing, as well as many neoprene design options, like Mossy Oak Bottomland.  Early season or cold late season we'll have a style and size for you in September at WorkingPerson.com – and just in time for your fall hunting comfort.