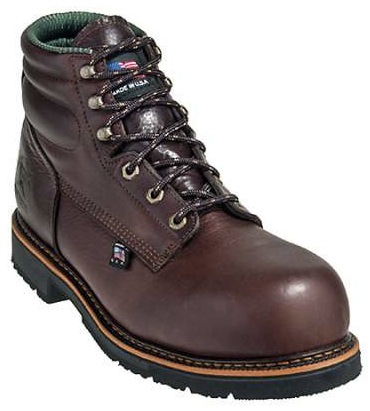 One way we can protect ourselves from workplace hazards is by wearing the proper safety footwear.  Safety shoes and boots can help workers avoid the dangers of chemicals, flames and slipping while on the job.  Most would agree that wearing the proper footwear is essential to a job where there are safety risks involved, however, we often fail to realize how our safety footwear can become a hazard itself.
Looking at industrial footwear as a subcategory of footwear as a whole, industrial footwear is subject to greater wear and tear at a faster rate than other types of footwear, namely the degradation of the midsole and outsole.  This is mainly due to the tasks being performed while wearing safety footwear and the hard surfaces which it is used on.  When the shock absorbing midsoles and outsoles (usually made out of polyurethanes) wear down, shock absorption, balance and motion control decreases significantly, causing more muscle fatigue and pain.
For these reasons, it is recommended that all types of industrial shoes and boots be replaced every six months.  For safety footwear that is impact-, compression-, chemical- or slip-resistant, this is especially important as these types of footwear are worn in workplaces where health and safety is a major concern.
According to The National Safety Council's "Selection and User Guide for Protective Footwear", there are some situations where safety footwear must be replaced sooner.  Safety footwear should immediately be replaced in the event that physical damage is evident in the toe area of impact- and compression-resistant shoes.  For shoes with metatarsal guards, it is recommended that the be replaced immediately after an impact has occurred of the metatarsal guard is exposed.  If the footwear's' steel midsole or shank guard is showing, it should also be immediately replaced.
Extra precautions should be taken with waterproof or chemical-resistant footwear that is made of rubber or PVC.  If the rubber or PVC becomes separated or cracked, it should be replaced immediately.  Similarly, if the tread on slip-resistant shoes becomes worn down and smooth, it is time for a new pair.
To lengthen the life of your industrial footwear and reduce pain and fatigue, often a replacement insole can do the trick.  Insoles should be made from a soft foam or gel, such as memory foam, with a contoured arch support and deep heel support.  Working Person's Store carries a wide variety of insoles that can help you get the most out of your safety shoes and boots.
To ensure that your safety footwear fits properly and is always working for you and not against you, keep the six-month rule in mind and always immediately replace if extreme damage has been done.  If you're in need of a new pair, don't wait, check out Working Person's Store today.