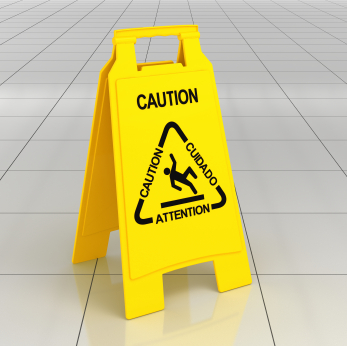 As a rule, athletic shoes and footwear with leather soles are typically not designed with the proper sole compounds, tread patterns and other properties that make them slip-resistant in most work environments. Luckily, there are several footwear vendors.  Grabbers and Skidbuster are well-known for offering a wide range of popular styles with the slip resistant properties needed to reduce the chance of an employee slip & fall injury.
A suitable test that measures footwear slip resistance can be found with the American Society for Testing and Materials (ASTM) F1677-96. This testing method covers the operational procedures for using a slip testing device for determining the slip resistance of footwear outsoles under dry, wet or greasy (contaminated) conditions. This test utilizes a scale from 0 to 1. With 1 being the most slip-resistant. This test may help establish the best footwear protection for the job at hand. Restaurant and chef shoes are a great place to start your search for slip-resistant footwear since those types of professions commonly deal with wet or greasy floor conditions.
Having appropriate slip resistant footwear is a great start, but everything gets dirty, worn or acquires residue. Overall cleanliness and condition of footwear before beginning a shift is vital to the effectiveness of the slip resistant footwear. Embedded grease on the sole of your work shoes negate its slip-resistant properties. Much like the tires on a vehicle, once the tread is worn, it's time to replace for safety's sake. How long footwear lasts differs from person to person, as does the particular model of shoe. Disposable slip-resistant shoe covers are another method of protection. However, remember that these covers are designed to last one day of work. if they are worn outside or on very rough surfaces, they may need to be replaced more often.
No footwear is 100% slip resistant. There are several factors that influence slip-resistance and slip and fall prevention including: type of flooring materials, floor finish, floor construction and preventative maintenance. The appropriateness and condition of work footwear being worn can also affect the risk of accidents. Contamination on the floor such as water or oil can change the need for protection. A person's vision, balance, or speed can have an influence on their work footwear needs as well. The safest method of protection is likely a combination of preventative measures. Other measures to consider include: a complete slip and fall floor program, new hire safety orientation, and safety training and safety incentive programs.