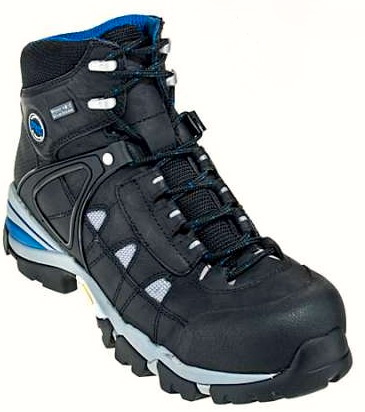 Timberland PRO boots are positioned as the brand's industrial outdoor and safety boots. The most exciting thing about these work boots is that they are providing ultimate in comfort, protection, and durability at the same time. You will not find these work boots in traditional designs; instead, these are boastful of an athletic design. Yet these Timberland PRO boots will fulfill all the demands of the consumers effectively. Timberland PRO Hyperion is also providing with its exclusive Anti-fatigue technology, which absorbs shock and allow workers to stay on their feet longer. Timberland PRO is also proudly collaborating with one of most authentic and famous names in footwear, Vibram. Now you will find the best work boots with an unmatchable outsole design, as this is made in collaboration with Vibram, which is famous for its commitment to testing and re-testing their products and ensuring the consumer is getting the absolute best every time.
These work boots are perfect for every type of job site, whether indoor or outdoor. While wearing these Timberland PRO boots you will be, rest assured that these lightweight, waterproof boots would support you throughout extensive hours on the job, by letting you stay on your feet longer.
Timberland is a subsidiary of VF Corporation and is known as a global leader in the design, engineering and marketing of top quality footwear, attire and accessories for consumers who value the outdoors and their time in it. Timberland is marketing its products under its different brands and bringing to you the quality stuff, which is especially designed to withstand the elements of nature. Its products are available throughout America, Europe, Asia and Middle East in its leading department, specialty stores as well as Timberland retail stores. This company is committed to "doing well and doing good", that is why providing great quality products to its customers. Moreover, it is also developing strong collaboration among its employees, consumers, and service partners in order to transform the communities in which they live and work.
The new Timberland PRO Hyperion boots are a full package of most desirous features. Its exclusive Anti-Fatigue technology is featuring molded, inverted cones that support, collapse and return in key pressure zones thus providing higher energy return and as a result making all day standing comfort and support. Its TITAN XL alloy safety toe is for lightweight protection and a generous fit, available in different styles. These Timberland PRO boots have a lightweight-molded EVA midsole and a Vibram outsole that together provides flexibility and comfort of an athletic shoe, with the support and durability of a work boot. It has a double toe and an Ever-Guard leather backstay in order to provide abrasion resistance and durability.
You can now get Timberland PRO boots in a wide range of styles and sizes 7-12, 13, 14, 15 M/W, which are equipped with the Timberland PRO PowerFit comfort system for ergonomic fit and maximum support. It is offering to you comfort and full customer satisfaction with a 30-day comfort guarantee. Take advantage of this luxurious offer, these work boots are now available at Working Person Store in both black full-grain leather and slate nubuck leather in a price range of $160 and above.