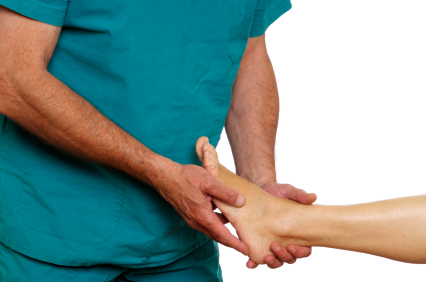 When your discussing footwear and foot protection, often the term podiatrist will come up. You may wonder what a podiatrist is exactly. Podiatrists specialize in medical care of the foot, ankle, and lower leg. They must have a doctor of podiatric medicine (D.P.M.) degree from a college of podiatric medicine. They must pass written and oral board examinations and must obtain a state license to practice podiatric medicine. Like other doctors, podiatrists work in private practices, hospitals, and clinics. They also retain the ability to become professors at colleges of podiatric medicine, department chiefs or hospital administrators. There they demonstrate their knowledge of foot, leg and ankle problems which may lead to special footwear needs.
The academic requirements are admitted to a college of podiatric medicine. This alone requires completion of at least 90 semester hours of undergraduate study, an acceptable grade point average, and acceptable scores on the Medical College Admission Test (MCAT). Required courses are in biology, chemistry (inorganic and organic), and physics. Prospective students are also evaluated on the basis of letters of recommendation, interviews, and extracurricular activities. Colleges of podiatric medicine offer 4-year programs similar to allopathic medical schools. Third and fourth-year students perform clinical rotations in private practices, hospitals, and clinics. During clinical rotations, students take patient histories, perform routine physical examinations, interpret diagnostic tests, and perform therapy for various foot ailments. Graduates receive a doctor of podiatric medicine (D.P.M) degree.
In addition to the above requirements, most states require completion of a 1- to 3-year postdoctoral residency program and continuing medical education (CME) for license renewal. Residents receive advanced training in podiatric medicine and perform clinical rotations in anesthesiology, emergency medicine, internal medicine, and radiology. Other specializations are orthopedic as well as general surgery and pathology. With this training, they have the ability to diagnose, along with suggesting ways to improve the health of your feet, ankles, and legs.
To be a podiatrist certain licenses and certifications are necessary. Board certification in podiatry requires advanced training, written and oral examinations, and practice experience. Podiatrists may be board-certified in orthopedics, primary medicine, or surgery. Licensing requirements vary from state to state. States may limit podiatrists to practice on the foot only. Most states allow them to treat the foot, ankle, and midcalf. In some states, they may treat the entire leg.
With all of the requirements and training, a podiatrist must endure and acquire. It is safe to say that they have the knowledge to tend to your feet. And they combine that with an overall knowledge to assure that the conditions of your feet do not affect the total condition of your body. For serious ailments of the feet, it would be prudent to visit a podiatrist who specializes in foot care than a doctor that has more limited knowledge.
At Working Person's Store, we are not certified podiatrists, but we do have a full staff of team members who know their footwear basics and understand that each person's feet are different and may have special footwear needs. Our large selection of footwear includes a comprehensive variety sizes and shapes, including both safety and non-safety footwear for men and women. Although we may not have the exact pair you need to fulfill your medical needs, our team is more than happy to display our knowledge and footwear to you in hopes of finding a more comfortable pair of boots or shoes.