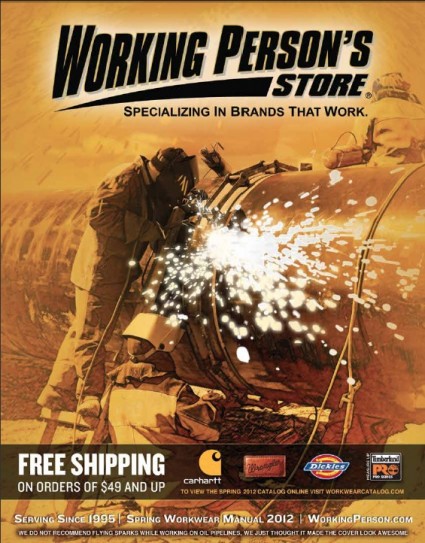 OK, you can stop holding your breath now. The day we know you've been pining for has finally arrived. No, the Cubs haven't won the World Series. But we did just send the Working Person's Store Spring 2012 catalog to the printer. In all seriousness though, we're pretty proud of it, and we know it'll help you outfit yourself and your employees for the coming season.
This catalog is jam-packed with all the newest and best products. It features a 68-page layout, with 64 pages of products, including our very own Working Person's Store socks, fresh off the line. If you get nothing else, you've got to get a pair of these, just for the novelty of it. They'll no doubt be our hottest seller. Think of them as a collector's item, for your feet.
And of course, the Spring 2012 catalog features all the major brands – Carhartt, Dickies, Wolverine, Puma Safety, Dr. Martens, Danner, and on and on and on. Inside these pages are the industry's leaders. You can't go wrong with any of your choices, because we only include the best products made by the best manufacturers. The Working Person's Spring 2012 catalog is a who's who of workwear companies and products – a one-stop-shopping destination which will fill all your needs in one place.
Go HERE to receive your own catalog. Also, you can view an interactive online version of Working Person's Spring 2012 catalog at WorkWearCatalog.com.
If you don't find exactly what you're looking for, you can scan the various QR codes placed throughout the catalog, and that will send you to our website, WorkingPerson.com, which has thousands of products to choose from.
We've made it easily navigable, so that you can readily find what you're looking for, free of stress and frustration. So check it out today! We know you'll be as excited as we are!