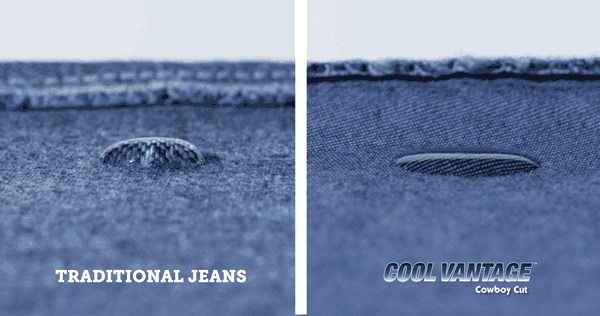 Perhaps you've heard of swamp ass. It's just about as unpleasant as it sounds, and coming down with a case of it can really ruin your day. Those tough hours at work can make you perspire, but that doesn't mean your work pants have to create an unpleasant environment for your behind. If moisture builds up, chaffing can occur. And we're pretty sure nobody wants to sweat until their skin is chafed. We don't think you need any more mental pictures, so we'll just go ahead and tell you how you can prevent this dreaded swamp ass from destroying your otherwise productive work day.
There's a new moisture-wicking denim out there that's been specifically designed to combat this issue. Thank goodness! Wrangler's Cool Vantage jeans wick away moisture 5x faster than traditional jeans, and they'll also provide you with comfortable, unrestricted movement. You can go about your day like usual, while the Wrangler jeans keep you cool and dry. Cowboys never lose their cool, right? With this breakthrough sweat control technology, you'll be more comfortable than a baby resting peacefully in a cozy crib, although you'll still be clocked in and busting your newly moisture-wicked butt.
These work jeans are developed with a rugged denim that moves with your body. This will help with all the bending, lifting, and squatting you do all day. You'll still get that authentic Western style you love, with the added bonus of durability. You want the style and need the long-lasting wear, so getting both should make your day. The cotton, polyester, and spandex blend works hard to prevent swamp ass. (Now you won't have to change out of your old blue jeans every hour anymore.) These Cool Vantage jeans are available at Working Person's Store, so get your butt in gear and grab a pair today. Give swamp ass the boot.