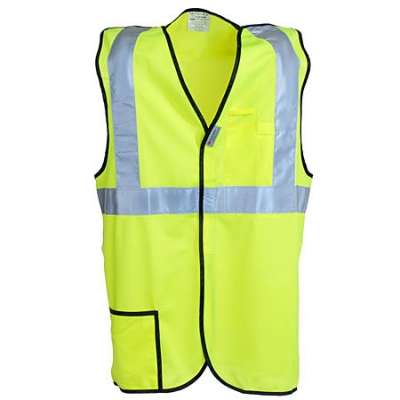 Hi-Vis clothing is used to protect the wearer. As a safety factor, rules and regulations must be in place when wearing hi-vis clothing in a work environment. Although you may have questions about hi-vis clothing, that is not what this article is about. This articles main purpose is to inform you that changes have been made, therefore standards have been updates. The updates have been defined in the following…
Technical Bulletin:
ANSI approved the revision by ISEA for the 207 Standards for Public Safety Vests that are High Visibility. This approval was granted on October 17th. New designation is ANSI//ISEA 207-2011 and copies will be available for purchase from ISEA before years end.
New Shoulder Area Design Requirements For Garment Design
One change that is major from the old designation to the newer designation of ANSI/ISEA 207-2011 is that all vests must have 23.25 inches of reflective material on both back and front of the shoulder area. It follows along with the revision to ANSI 107-2010 which provides more visible material that is reflective even when a worker bends.
Identification Clarity for Lettering, Logos and Identification Panels
Revisions that have been provided for 207 also address clarity issues regarding lettering, logos, and ID panels on Safety Vests for public workers. The following information is important as it addresses needs of EMS, fire and police personnel. In specific, 6.2 states that lettering and logos that cover less than 72 inches will not take away from the amount of material background that is required. Lettering and logos can cover more than the 72 inches of background. However, if lettering and logos go beyond the 72 inches, it will count against the background material amount.
Another addition to this revision is that logos and lettering cannot cover more than 22 inches of either combined performance or reflective material on the new compliant vests for public safety rated ANSI//ISEA 207-2011.
How Does The New ANSI//ISEA 207-2011 Standard Affect GloWear Public Safety Vests
When it comes to GloWear Safety Vests, selling of these GloWear 8244PSV and 8245PSV will continue just as has been done with the 2006 standards. All logos and designers Ergodyne produces were compliant already with the old standard of ANSI//ISEA 207-2006. We are currently updating the interior labels for the PSV to adhere to the new designation of standard recently approved.