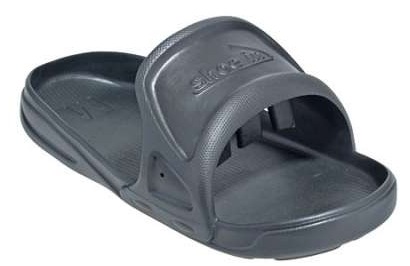 Even when you primarily work outside, there are times when it's necessary come into the office or even a client's home.  When you reach that doormat, however, you realize your dilemma. Do you walk in with wet, muddy work boots and risk tracking in dirt?  Or, do you remove them only to reveal your sweaty socks?
Weinbrenner has the solution to this seemingly no-win situation with the Shoe In.  The Weinbrenner Shoe In is an overshoe designed to be worn indoors over dirty shoes and boots so you can enter a home or office without having to worry about appearing unprofessional, getting the floor dirty, or both.
The Shoe In is made with lightweight, durable EVA rubber.  They feature two slip-resistant rubber pads and patented gripper teeth that keep your shoes locked in.  They are completely hands-free so you can get in and get out with ease.  Adding to their convenience, there is no left or right distinction and they can easily be rinsed clean.  Shoe In overshoes also include an easy-to-open backpack for storing them when you're on the move.
Shoe In overshoes come in Small, Medium, Large and Extra Large and can fit over most work boots and shoes up to size 16.  They are available in different colors such as blue, green and black and there are a few different style options.  There are Open Toe and Closed Toe versions as well as the Shoe In Safety Toe which includes a steel toe for additional protection.  For when you need to wear your overshoes in icy conditions, Weinbrenner also offers the Shoe In Ice-Ts which include metal studs on the sole for added traction.
Weinbrenner Shoe In overshoes for men and women are available at Working Person's Store.  Pick up a pair today and save yourself for making another footwear faux-pas!