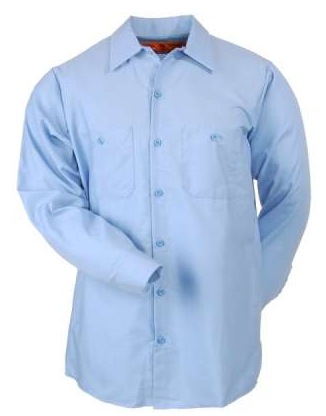 Looking to throw off the winter doldrums and give your gear a facelift? Boasting one of the largest color ranges in the working world, Red Kap Uniforms has the style and palette to fit any workwear brand.
One of the easiest ways to brighten your mood and your workwear is to add a splash of blue. Color psychologists agree that blue is perceived as 'peaceful' and 'loyal'. That may be be true because it's always been used abundantly in uniforms and workwear throughout history. Red Kap offers 5 varieties of blue alone in their mainstay Men's Industrial Short Sleeve (SP24) and Long Sleeve Shirt (SP14) series.
There are many shades of blue but one of the most popular is the royal blue (SP14) shirt. Bright and cheery, it can add just the right amount of warmth to an otherwise dull or detracting ensemble. Royal blue is also a very assertive color and can do wonders to subconsciously create confidence in your clientele. The SP14 work shirts also feature the widely popular navy blue, charcoal blue, light blue, and dark blue. They also feature the SP14B QC which uses blue, grey and red striping.
If blue isn't really your thing, check out the cocoa brown (SP24) or spruce green (SP24). Pleasant earthy tones allow your customers to focus on your products and services instead of overly loud attire.
Whichever shade you decide to go with, make sure it fits your company image and message. There's nothing more distracting than mismatched colors, but a savvy color scheme will go a long ways toward building your brand!
Getting the right fit for your uniforms is a very important task. That is why you should always be sure to choose clothing that works for you, not against you. The popular poly/cotton blend utilized by Red Kap Performance shirts will help to wisk away moisture from your skin and decrease the bacteria build-up that leads to that 'working funk'.
Quick Tip – To properly measure the sleeve on your uniform shirt, hold your arm straight to the side and parallel to the floor, move your forearm towards your chest, and measure from the middle of the back of your neck to the elbow and then around to your wrist. This is the most accurate way of determining your proper sleeve length.
With a wide selection of work-durable industrial, polo, and dress shirts for both men and women, Red Kap is an industry leader in providing durable and comfortable clothing for rough conditions. Be sure to check Working Person's Store for the latest styles and colors!