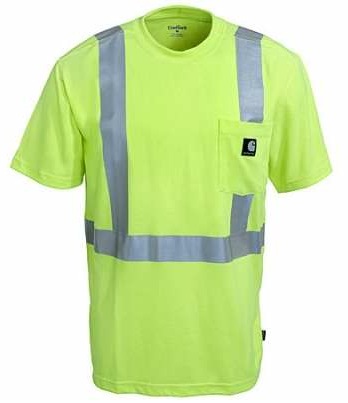 Hate wearing your high-visibility apparel? You're certainly not alone. The number one reason that working people decline to wear their required high-vis clothing is that they say it's cumbersome and uncomfortable. And that sentiment is common. The problem is, without it, you're at a much greater risk of an injury or fatal accident. It's a fact. That's just what the stats show and the stats don't lie. It's too dangerous to work without.
So what about wearing something that you already know you like? Like Carhartt. Everybody loves Carhartt clothing, for its comfort, durability, and practicality. So we've got some great news for you. Now, after several requests by both retailers and consumers, Carhartt is bringing back its line of high-quality high-visibility apparel. This is Carhartt's best line of high-visibility and color-enhanced workwear yet.
Instead of having to wear your high-visibility apparel over the top of your regular workwear, now the high-visibility apparel can be your regular clothes, with the same comfort and range of motion that you've come to expect from Carhartt. And now it's at an even better price.
This line of Carhartt high-visibility apparel will feature high-visibility T-shirts, high-visibility sweatshirts, and high-visibility vests. And except for the types that are simply a fluorescent yellow shirt, they all feature 3M Scotchlite Reflective Material, which is segmented for superior breathability and durability. It also provides enhanced range of motion. And best yet, it maintains its retroreflective performance through 75 home launderings. A new Carhartt creation called Carhartt Force is also on the job. This latest innovation in fabric is a hard-working, sweat-wicking, stain-fighting technology that takes down heat and grime. As it wicks sweat from your body, it also fights stains.
Carhartt high-visibility clothing will be available for purchase October 1st. Watch for it at WorkingPerson.com. Working Person's Store already carries a great lineup of all your favorite Carhartt products like shirts, pants, boots, belts and jackets, and now, we're adding Carhartt high-visibility apparel to the list.
So not only will you be more comfortable on the job site, you'll be better protected too. It's a win-win. Quite simply, it's what you've come to expect from a winner like Carhartt. Finally, there's a solution to the long-time problem when it comes to high-visibility workwear. That solution is Carhartt High-Visibility Clothing.