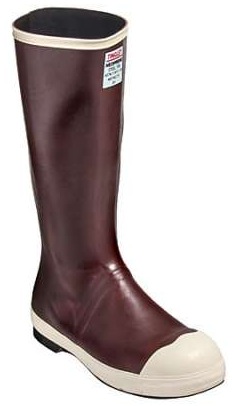 Declare your feet safe in Tingley Rubber's Neoprene Snugleg Boots, manufactured with a mulit-ply method that outwears standard rubber boots in challenging or chemical environments.  Ideal for food processing and chemical work, these work boots are designed for tough and wet industrial environments.
While the all-in-one-style appears classic galoshes, these are no kiddie rain boots or grandpa's rubber boots.  Study and protective, each boot is triple-dipped with two neoprene coatings and one sealant, a recipe for 100% waterproofing and chemical resistance.  Neoprene Snugleg Boots will hold up in solvents, caustics, hyrdocarbons, oils, animal fats and bloods, oils, alcohols, akalies.
The safety-toe style (MB921B) meet ASTM F 2413-05 M/I/75/C/75 EH, for steel toe caps and electrical hazard protection, while the soles, Chevron or Saftey-Loc, offer abrasion resistance and excellent slip prevention performance on wet-contaminated surfaces or wet-clean surfaces, respectively.  Tingley's Snugleg boots hug the leg for all day working mobility and they have a dense fabric liner that wicks moisture and condensation, plus aids in easy on, easy off.  The removable polyurethane contour cushion insoles along with the steel shank for added arch support yield maximum walking and standing comfort.
Among our new inventory at WorkingPerson.com and one of many choices for fairly priced, high-quality workwear, including rain gear and outerwear,  for your wet weather and/or specific work clothing and footwear and safety needs.